Mr. Greg Low
Founder and Managing Director of Hardface Technologys.
Extensive experience and knowledge in gas and electric welding industries
Qualified welder and gas fitter
35 years experience in Pipe Welding, Mechanical Services, Hydraulics, Fuel Systems, Superheated Steam Systems and in particular Hardfacing.
Proven record of accomplishment as part owner and operator of one of the most successful Independent Industrial Supply companies in Sydney.
International experience gained during years of work in Europe and in New Zealand
Involved in developing Hardfacing for the rail industry in New South Wales in Australia.
Recognised Team Leader with excellent "hands-on" training ability.
Certified Product Specialist in Gas Welding, Cutting, Heating and Regulation equipment.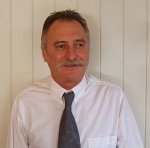 Mr. Stephen Walsh
General Manager for Hardface Technologys
Over 18 years experience in welding industry
Owned and operated his own electrical servicing business
Has lived in, and travelled extensively throughout, Asia and Europe
Highly experienced trainer, instructor and teacher with experience gained in many countries and with many cultures.
Comprehensive experience with Industrial Automation Welding Systems, notably Mechanised TIG, SubArc Tractors (Microprocessor Controlled), and Column and Booms.
Substantial Robotics and Automation experience especially in EOD Robots.
Extensive International experience gained while working in Singapore, Malaysia, Thailand, China, Japan, Taiwan, Philippines, Indonesia, Korea, Hong Kong, Borneo, Papua New Guinea, New Zealand and in Europe, Sweden, Norway, Italy and Hungary.
Ultrasonic NDT tester, trained by Australian Institute of Non-Destructive Testing to AS3998.